LOCALS MAKE CUT IN STATE AMATEUR CHAMPIONSHIP
Five Ocalans made the cut in the Florida State Amateur which is being played at Golden Ocala Golf and Equestrian Club and Ocala National Golf Club. Leading the local scorers is Brent Dorman who is tied for 14th place on scores of 71-73. Tied for 28th is Daniel Owen with a 146 total (73-73) followed by Matt Giovannelli (T-39th 71-76), Jay King and Joel Durrance tied for 51st with identical 72-76 – 148 scores. Kelly Gosse shot 79-77 finishing outside the cutline. The third round of this four round event is being played at Golden Ocala Saturday with the final round on Sunday.
GIOVANNELLI WINS THE MARION MASTERS TOURNAMENT
Matt Giovannelli came from behind to win the 29th Marion Masters. Trailing the leader Christian Andersen by four shots heading to the last round at the Country Club of Ocala, Giovannelli's even par 36 pulled him to within one of the lead heading to the home nine. "Gio" shot a 2-under-par 34 for a 70 total and a 3 shot win. The best round of the day was posted by Jay King who shot a 5-under-par 67 giving him a 211 total to end up in a tie for second with Andersen. Brent Dorman finished third with a 212 score and Colton Godwin rounded out the top five with a 214 (72-72-70). The win for Giovannelli was his first Marion Masters win and gives him a 10-year-exemption into the tournament. The top ten finishers from this year scores earn an exemption into next year's event (SEE BELOW)
Marion Masters Winner Matt Giovannelli
The top ten finishers were:
1. Giovannelli (208)
T-2 Andersen (211)
T-2 King (211)
4 Dorman (21
5 Godwin (214)
6. Steve Albright (215)
T-7  Osten Waite (217)
T-7 David Griffin (217)
9. Drew Ditty (218)
10. Troy Glaus (220)
For all the scores see Tournament Results
OWEN, GOSSE RESPECTIVELY LEAD GOLFER AND SENIOR GOLFER OF THE YEAR
Daniel Owen and Kelly Gosse lead the Golfer and Senior Golfer of the Year race.
The contest for the Golfer of the Year tightened up after The Henry Camp. Owen. Less than 200 points separate the leader and fifth place. Last year's POY David Griffin is in second place followed by Christian Andersen.
In the Senior Golfer of the Year race Gosse holds a 278 point lead over Berger Warner. In third place is Ian Clarke.
For the latest standings go to Golfer Of The Year.
LARRY COTTEN WINS MEDALIST HONORS AT MARION MASTERS QUALIFIER
Larry Cotten shot a 4-under-par 68 to win medalist honors at the second Marion Masters Qualifier. The qualifier which was played at Pine Oaks Golf also had three other golfers go in the red numbers. Judd Davis shot a 2-under-par 70 and Bobby Bruant and Matt Giovannelli shot 1-under-par 71s. The cut line was 83. For all scores see Tournament Information/Tournament Results/Marion Masters Second Qualifier.
SETH WRIGHT MEDALIST AT MARION MASTERS QUALIFIER
Seth Wright shot an impressive 3-under-par 69 to claim medalist honors in the Marion Masters Qualifier. Playing at Pine Oaks Golf Club, Wright coupled six birdies with three bogeys to win the honors by three shots. Second place went to Travis Teuton who shot even par 72. The cut line was 82.
For all the scores see Tournament Information/Tournament Results/Marion Masters First Qualifier.
TYLER HITCHNER WINS HENRY CAMP INVITATIONAL IN A PLAYOFF
University of  Alabama Freshman Tyler Hitchner's first trip to Ocala Golf Club will be something that he will remember for a long time. There was a lead battle happening all day long within the final foursome between Hitchner, Matt Giovannelli, David Griffin and Dick Clemens. Back and forth they went until Griffin grabbed  a one shot lead on the 12th hole. Griffin and  Hitchner matched scores until on hole 17 Hitchner's  35-foot eagle topped Griffin's birdie and they were knotted heading to the 18th hole. Both players made par and headed for the first tee and a sudden-death playoff. Hitchner hit a marvelous second shot to within two feet and made the birdie putt to win the championship.  Hitchner shot a 71 for a 5-under-par 211 total. Griffin shot a 70 also for a 211. Finishing in third was Jay King who shot 213. Fourth was Matt Giovannelli with 214 and fifth was Dick Clemens with 215.
For all the  scores see Tournament Information/Tournament Results/Camp Final Championship Scores and Camp Final Flight Scores
RON AUDI WINS FSGA SUPER SENIOR 75+ DIVISION
Ron Audi brought yet another state title to Ocala. Audi added his name to the growing list of Ocalans who have won a State Championship by capturing  the Super Senior 75+ Division. The event which was played at The Country Club of Ocala saw Audi shoot a last round  even par 72 for a 149 total which was one shot better than Joe Eubank. John Teller finished 8th in the division.
Another familiar face in Ocala's golf scene, Brian Sachs (Newbury) won the  Super Senior 70-74 Championship with scores of 75-76.
The Super Senior Division played 54-holes and it was Pat Vincelli (Stuart) going wire-to-wire for the win with a 217 total to edge out Dr. Jim Carley (Ormond Beach) who shot 219. Finishing tied for 12th was Randy Briggs with a 232 score.
TOM HIXON, BERGER WARNER WINNERS IN PINE OAKS INVITATIONAL
There was one wire-to-wire winner and one come-from-behind winner in the Pine Oaks Invitational.
In the Open DIvision, Tom Hixon who blistered the Pine Oaks Golf Course on day one with an 8-under-par 64 shot a 73 on day two to edge out Matt Giovannelli by three shots. Gio shot 66-74 (140). Third place went to Kelly Gosse who shot the low round of the day, a 4-under-par 68 giving him a 142 total.
In the Senior Division Berger Warner overtook first round leader Tom Alvey by posting his second straight 1-under-par 71 for a 142 total. Alvey shot a final round 76 for a 146 score. Finishing in third place was Ed Cambias with a 147 total (75-72).
The final scores for the open division were not compiled yet but the senior scores can be seen under Tournament Information/Tournament Results/Pine Oaks Invitational Senior Division Final scores.
KELLY GOSSE TEAMS WITH PETE WILLIAMS TO WIN FSGA JUNIOR/SENIOR EVENT
Ocala's Kelly Gosse received a phone call from Juno Beach's Pete Williams in which Pete asked Kelly he would like to partner up for the Florida State Junior/Senior Tournament. Gosse said yes and the newly created pair went out and won. The event was played at Victoria Hills in Deland. Gosse and Williams shot a whopping 16-under-par 128 (65-63) and won by three strokes over Jimmy Jones and Gordon Marshal (131). Finishing third were Tim Hume (Crystal River) and Brian Brown (Inverness) with a 133 score. This is the 10th state title for Gosse. The win by Gosse brings the number of state titles by Ocalans to 35.
SNOAP, WARNER, SACHS WINNERS IN MOOT THOMAS INVITATIONAL
Doug Snoap, Berger Warner and Brian Sachs lead their respective divisions going into the last round of the Moot Thomas Invitational and after the last putt of the day all three had convincingly won.
Apopka's Snoap posted his third under-par round a 5-under-par 67 for an amazing 9-under-par 207 three day score. In second place was Bill Zylstra who shot a final round 2-under-par 70 for a 219 total. Third Place went to Mark Weston (Windemere) with a 220 score.
In the Super Senior Division, Berger Warner  went in the red again with a 3-under-par 69 for n 8-under-par 208 .  Warner's long time friend and rival Daytona's Jim Carley  finished second. Carley also shot a final round 3-under-par 69 for a 3-day score 211. John Abbett (McLean, VA) and David Crocker (Bluffton, SC) finished in a tie for third with a 219 score.
In the Legends Division Brian Sachs (Newberry) won the title by 7  with an even par 216 total (71-70-75). Second place went Oviedo's Ron LeClair. The 78-year-old LeClair beat his age all three days, 74-74-75 for a 223 score. Finishing third was Tampa's Ed Craig with a 226 score (83-73-70).
For the final scores see Tournament Information/Tournament Results/Moot Thomas Invitational Final Scores.
Doug Snoap, Berger Warner, Brian Sachs display championship crystal
ANDERSEN, CLARKE, SACHS WINNERS AT CCO INVITATIONAL
Christian Andersen fired a final round 4-under-par 68 to run away with the Championship. Andersen's 141 total gave him a five shot win over Daniel Owen (75-71 – 146). Finishing third was Drew Ditty who had a pair of 76's. Fourth went to Steve Albright with a 153 score.
In the Legends Division Ian Clarke went wire-to-wire as he backed upped his opening round of 70 with a 75 and a four shot win over Berger  Warner (75-74). Finishing third was Brian Brown (152) and fourth place went to Bobby Johnson (154).
In the Hall of Fame Division Brian Sachs closed  with a 1-under-par 71.  Sach's 147 total was two shots better than runner-up  Michael Benham  (149). Finishing tied third were Ron Audi and Keith Keister with 151 totals.
For all the scores see Tournament Information/Tournament Results/CCO Invitational Final Results.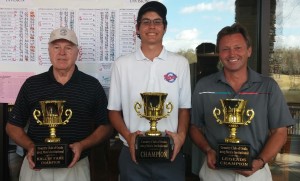 Brian Sachs, Christian Andersen, Ian Clarke